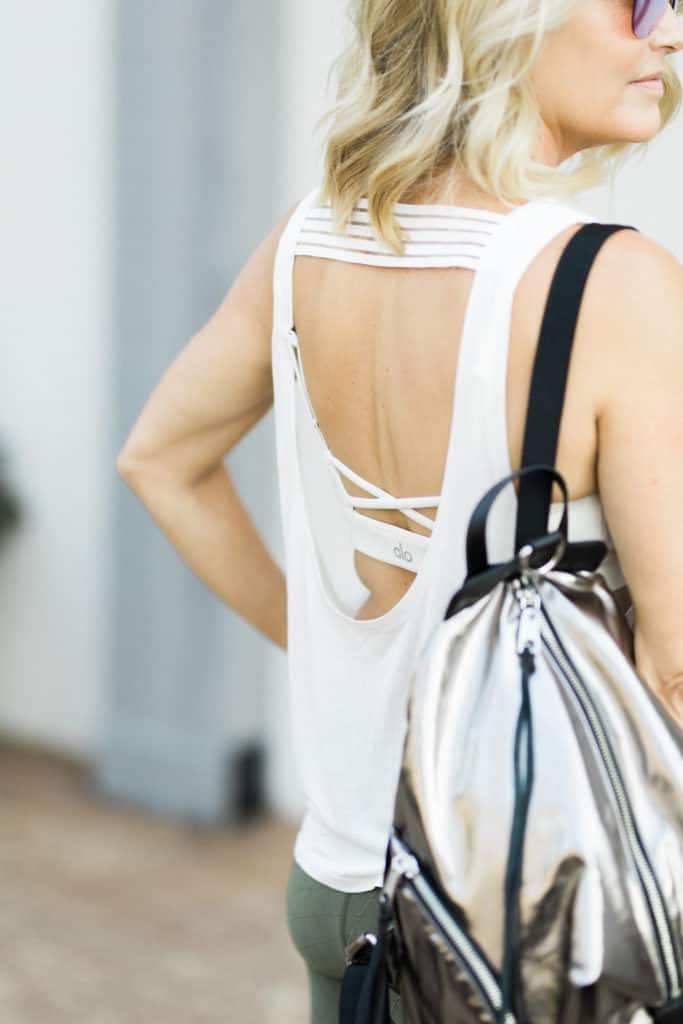 Studio to street style is a easy way to make good use of your time.  Especially since the time change.  So many days I am going from working out to running errands and I just don't have time to go home and change clothes. On those days, I like to put an outfit together that I can go straight from the studio to out and about and still look my best
My favorite leggings right now, are these Beyond Yoga army green leggings. I love the detail of the quilting. And who doesn't love army green in the fall? My top and bra are from Alo Yoga. I just love this color, pristine, with the army green.
Sneakers are my new obsession.  I think I may have a pair to go with anything.  Not really, but I do love them and they are so comfortable. I got these sneakers last year on sale and lucky for you they made them again this year.
To finish my street look off, I throw on a sweater and grab a backpack.  This sweater and backpack are both from Gus Mayer.  Call Brittany, the store manager, at 205-870-3300 and she can help you with these items.  I love this sweater it feels wonderful and pairs great with the leggings and sneakers.  The backpack is such a fun item to add and I love this color.  I think the backpack pulls it all together.
An easy studio to street style look to put together is all black.  A good black pair of leggings is an essential part of a studio lover.  Below are some more good options for the studio to street look.


I love the studio to street look because it is easy and fits into my busy life. Most days I am in my leggings for the majority of the day.
Do you have a favorite pair of leggings?