When I am buying clothing, I really like to think about how and when I will wear it. A skirt is a perfect item to wear year around.  You can change it up so many ways.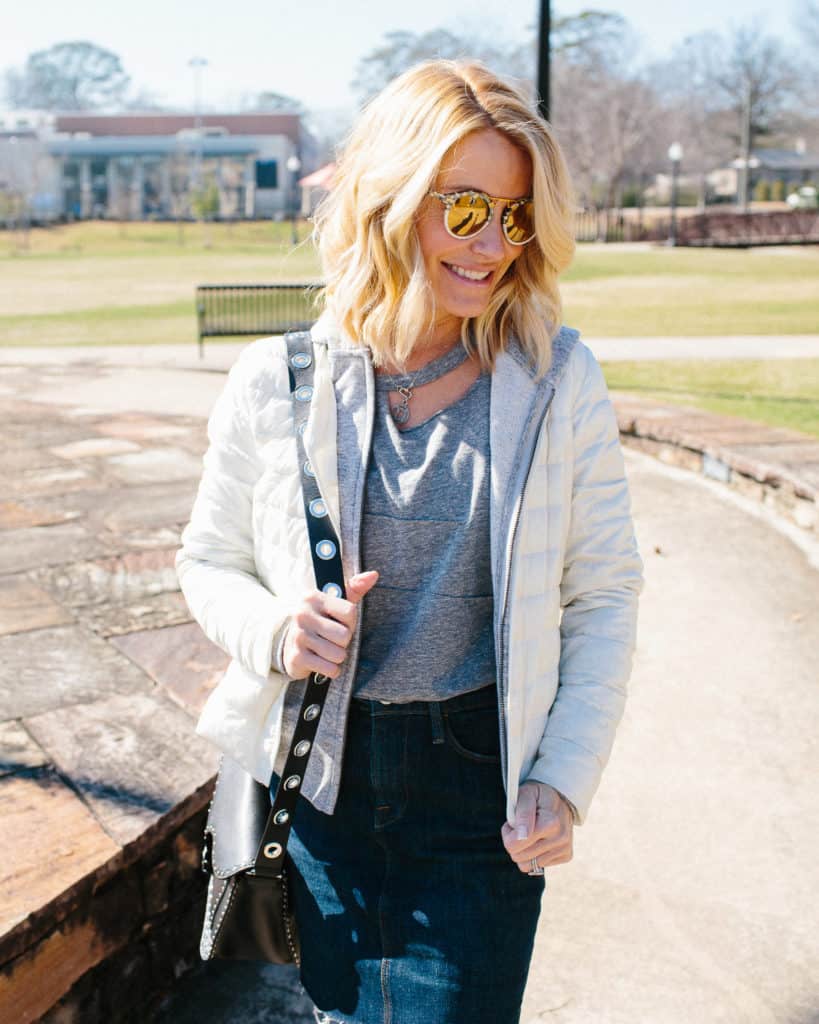 In my closet, my denim skirt is one of the basic pieces that I can build my outfit from. In my post My Fall Uniform I talked about my basic pieces being my jeans and a white t-shirt. The denim skirt adds another basic to my spring and summer uniform.
A denim skirt is a good buy if you buy the right one.  It can be timeless.  I searched for the perfect denim skirt for years.  A couple of years ago I found the right one at Gus Mayer.  It is made by Frame.  Unfortunately, they do not make this exact skirt but I have found some others that I like here.

The look I am wearing here is perfect for a spring day when I am running errands or meeting a friend for a casual lunch.  In fact, the top and bra I am wearing are from my activewear clothes.  So I worked out (I didn't really sweat), and then just changed my leggings for my denim skirt and sneakers.
What To Look For When You Are Buying A Denim Skirt
Make sure the length feels good.  Not too long and not too short.  I have bought mini denim skirts only to have them expose too much skin when I sit down.  Try it on and make sure you can sit comfortably in your skirt.
If you are only buying one denim skirt, I would stick with one that is more of a medium to dark wash.  This way you will be able to wear it year round.
In spring I wear layers.  That way as the day warms up, I can shed my layers and still be comfortable.  I have made the mistake too many times of not wearing layers and then either being too hot for the day or too cold.  The jacket I am wearing I bought this fall and it has been a great stable for me.  I will wear this through the spring for sure. The price is pretty awesome too!
Here are some other items that I will be wearing with my denim skirt this spring and summer:

My outfit:

Photos by: Rachel and Noah Ray