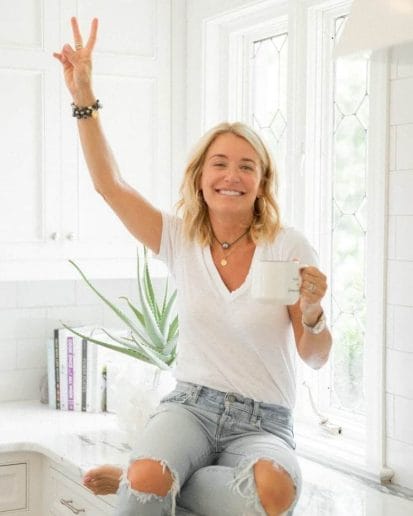 Women often come to me asking for weight loss tips, especially as they move beyond their 30s and 40s. The truth is, what worked for us when we were in our 20s and 30s doesn't seem to do it anymore. It's important to approach things differently when it comes to weight loss in midlife. Let me share my top 3 weight loss tips for midlife women, it's probably NOT what you'd think. 
Get Your Mindset Right
If you're approaching weight loss with an all-or-nothing mindset, you're not setting yourself up for success.  Rigid thinking is not sustainable for the long term and when you do "slip up" it feels incredibly discouraging. 
Try a different strategy instead. Think about one thing you can change that would make a difference. Some suggestions might be:
Swapping out sugary drinks with water

Incorporating a nice size portion of vegetables with every meal 

Prioritizing better sleep

Eliminating processed sugars

Stop eating after 7 pm
When you set your mind on progress over perfection you'll feel empowered to keep going. Release the idea that you have to do it all at once. Choose one small change you want to make and then continue to add more change with time. 
Get Moving!
Movement is so important not just for weight loss but for brain health, reducing the risk of disease, and strengthening bones and muscles. The key is to find things you love to do so you'll be motivated to move every day. Progress over perfection applies here as well. For example, start with a 15-minute brisk walk in the morning and after some time, increase the amount.
Don't Go It Alone
My final weight loss tip for midlife women is accountability. Our success rate increases dramatically when we're alongside other women feeling supported as we work towards our goal. I know I'm way more motivated when I know a friend is checking in with me! Ask a friend, or group of friends, who are also looking for support and come up with a plan together. You're also invited to join me and other like-minded women in my Balance Wellness Method. Get on the waitlist for the next round to find the support and inspiration you need to meet your goals.
What weight loss tips for midlife women do you have? I'd love to hear from you in the comments.
Extra Resources
Podcast: Mindset and Health During Menopause with Teresa Townsend
Blog: Losing Weight in Your 50s
Blog: How to Thrive in Midlife with the Balance Wellness Method
Balance Eating Method