In Alabama, we are not used to very cold weather but we seem to be getting our fair share of it lately. I really do not like cold weather unless I am going to be skiing. Does it seem colder this year than it did last year? Well, it is! I want to share with you my tips to dress warm in cold weather.
Dressing In Layers To Stay Warm
Dressing in layers is a key factor in staying warm.  Make sure to put a base layer on first.  My favorite everyday cami, for cold months, is Uniqlo's Heattec sleeveless top. Next week, I am going skiing so I will wear my Smartwool long sleeve top.  It is a more technical piece of clothing that wicks moisture but keeps me warm when I am skiing.
Next, I like to put another mid-layer on.  A sweater is a great option or if it is even colder I put on a button down and then a sweater.  It is important that it fits properly to keep you warm.  If it is too tight or too big it will not keep you as warm.
For the final layer, a good coat is a necessity.  In Alabama, our temperatures can vary a lot in a day depending on the time of year. Usually, a light coat like this is adequate.  However, if it is below 30 degrees I like something more like this that is a little longer.
Usually, I am good with jeans or maybe my suede pants if it is really cold.  Again when I am skiing, I always put on a base layer like Smartwool or leggings like these under my ski pants.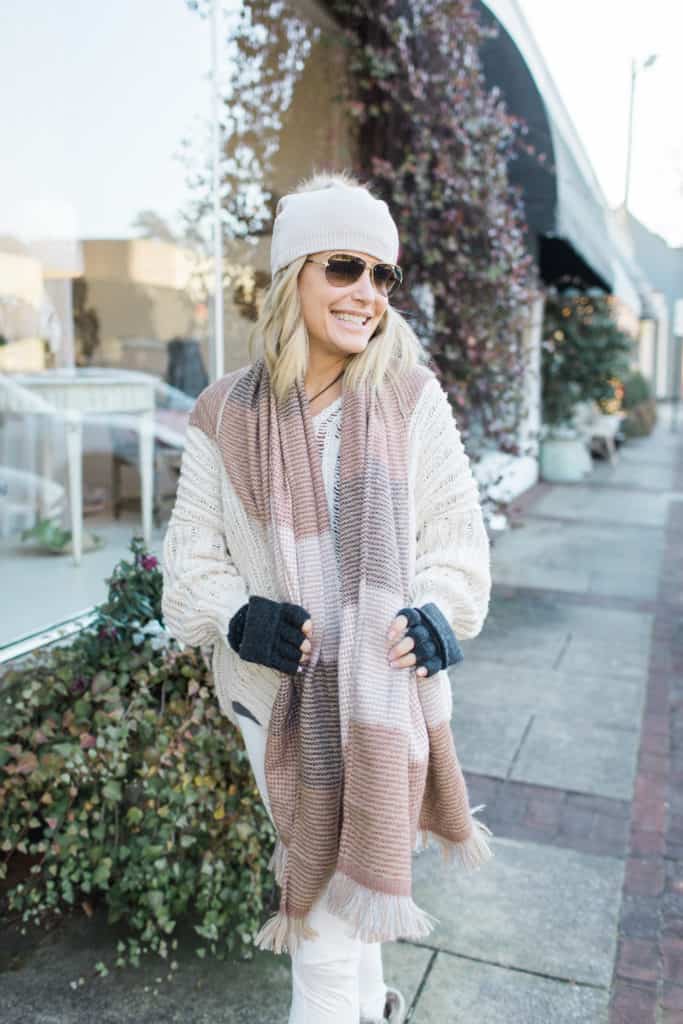 Keeping Your Hands and Feet Warm
Keeping your hands and feet warm is important also.  Did you know that if your core is cold, it pulls blood away from the extremities?  This can make your hands and feet feel colder. Sometimes an extra mid-layer top or a warm hat will keep you warmer than putting on extra layers on your feet or hands.
I just recently bought two pairs of gloves to keep my hands warm.  I wear this pair the most and love them!  They are perfect for the type of cold weather we get in Alabama.  This pair I got for when I go to Jackson Hole and New York City.  They are extra warm. With both pairs, I can still use my phone, which we all know is important.
My favorite boots to keep me warm are these.  I wear them all the time. Unfortunately, there are only a couple of sizes left.  Here is another option.
Wrapping Up
Last make sure you have a scarf and hat.  Hats keep the heat in your body.  There are so many cute options out right now.  I love this one and this one.
What is your favorite piece of clothing to wear in cold weather?
Shop this post: My scarf was a gift I got a couple of years ago and my hat is from Gus Mayer.