As I become older, my skincare routine has become more important to me. Although, I will admit I don't like to spend much time on skincare or makeup. It has to be quick and easy.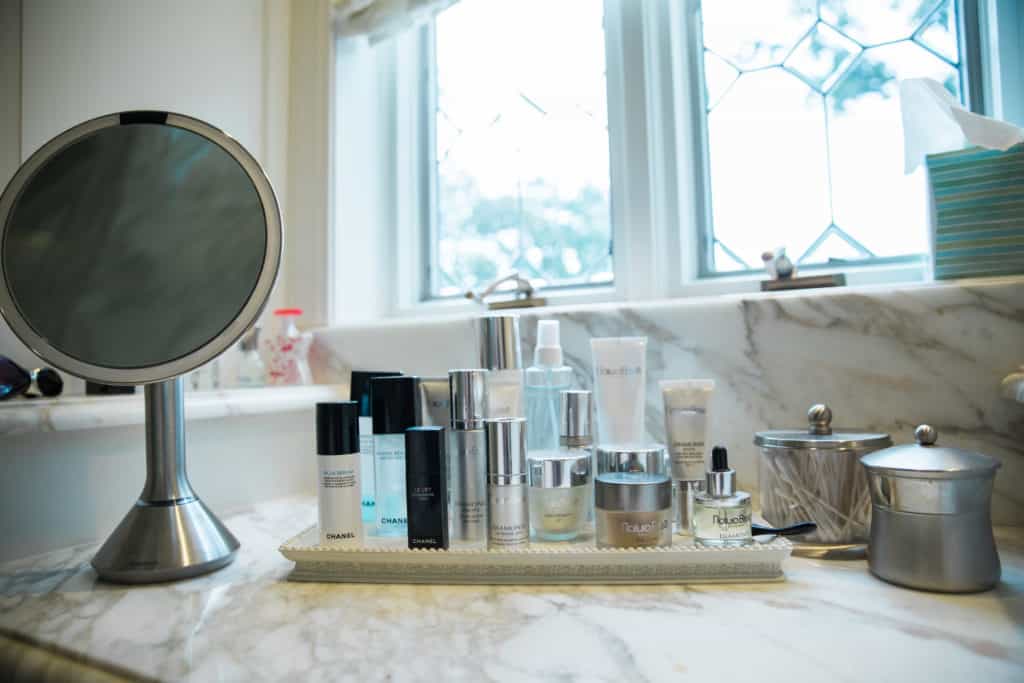 Morning Skincare Routine
On a normal day, I wash my face with Cetaphil Daily Facial Cleanser. Next, I use my Natura Bisse Eye and Lip Makeup remover to remove any lingering eye makeup I missed the night before. Once I make sure my eyes are clear, I apply  Natura Bisse Diamond Extreme Eye. This is the best eye cream I have found.
The next step is one of my serums and I have several that I love.  I like to change it up because I believe just like most things in life using the same products our skin gets accustomed to those products and they do not work as well. I don't really know if this is true or not.  It is just what I think. Some of the serums I use are Biossance Serum Squalane + Phyto-Retinol, SkinCeuticals C E Ferulic, Chanel Bule Serum, Chanel Micro Serum, Natura Bisse Diamond Life Infusion, and Natura Bisse Inhibit Hight Definition.
Most days I first put on Natura Bisse High-Density Lift Cream then if I am going to be casual, no meetings, just working around the house or running errands I put on a tinted moisturizer. I have a couple of favorites that I am using right now Skinceuticals Physical Fusion UV Defense SPF 50 and Chanel Sheer Healthy Glow Moisturizing Tint in Medium Plus.
Night Time Skincare Routine
Every night no matter what, I wash my face and get all of the makeup I have been wearing. I have been doing this as long as I can remember. I think it is very important to get all of your make up off before you go to bed each night.  Most of the time I use my Cetaphil Daily Facial Cleanser but sometimes I use Natura Bisse Diamond White Rich Luxury Cleanser.
After I make sure I have all of my make up off I use one of my serums. Then my night time moisturizer is Natura Bisse Diamond Extreme Moisturizer.
At least 2 or 3 times a week I apply Natura Bisse Diamond Extreme Oil then the Diamond Extreme Mask.  This helps to combat dehydration with all of my travels.  I also like to apply Chanel's Le Lift Masque on top of that.
Most of these products can be found at Gus Mayer. If you live in Birmingham, you can swing by and pick it up or call Gus Mayer and they are happy to ship it to your door.
The Most Important Step Of My Skincare Routine
The most important step of my skincare routine is drinking lots of water and eating clean.  Ok, it can't be proven according to everything I read on the internet but I do have more energy and I feel so much better when I drink my water and eat clean.
But really, I do believe that good genes help a lot!  And if you have ever seen a picture of my mother you would know I have very good genes.  So thank you mom, for passing that on to me!