Did you know today, Tuesday, May 15 is National Chocolate Chip Day?  It seems like everything has a day.  Well, I couldn't let this day pass without sharing my favorite thing with Chocolate Chips,  A Great American Cookie Cake.
A couple of weeks ago Meredith (The Southern Source) and I tried our hand at decorating a Cookie Cake at Great American Cookie.  We had so much fun.  It is not as easy as it may look.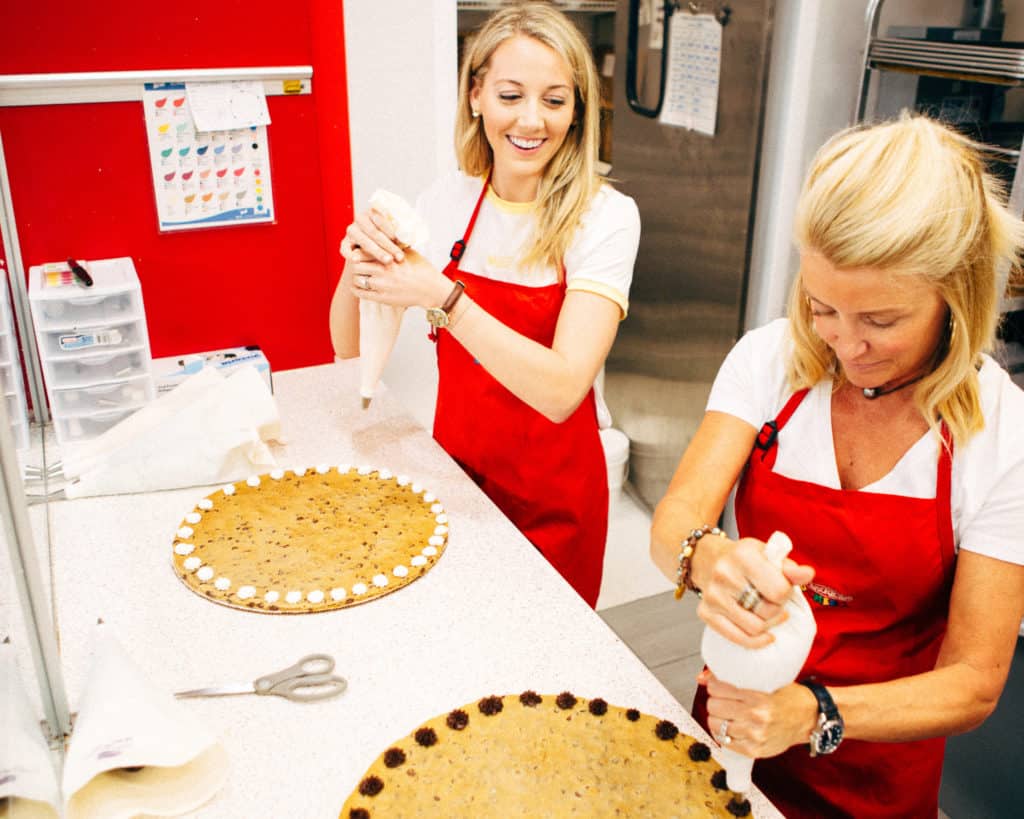 I have been buying Cookie Cake's for years at Great American Cookie.  As you know I have 3 boys and Cookie Cake is their favorite! When they were little we had them for every occasion you can imagine, team sports, birthdays, end of the school year, graduations, valentine's day, etc.
Now that they are older we are still having them.  In fact, last weekend we had a couple's baby shower and we had a double doozie Cookie Cake.  It was the hit of the shower.  Who doesn't love a Double Doozie Cookie Cake?
I decorated one for a Baby Reveal Party.  This is a great way to let everyone know if you are having a boy or a girl.  Meredith decorated one for a friend that just got engaged.  There are so many ways you can celebrate with a Cookie Cake.  Today it got even better!
Starting today, Tuesday, May 15 through Sunday, May 20th, you can get $10 off a 16″ Cookie Cake or larger.  This offer will only be for call in's at the following stores.  The code is COOKIE$10.  Remember it will not work online, just on call-ins.
Brookwood Village- 205-871-1333
Riverchase Galleria- 205-985-0880
Pinnacle Tutwiler Farm, Trussville- 205-655-6807
University Mall, Tuscaloosa- 205-553-8219
Gadsden Mall- 256-543-8381
Decatur Mall- 256-340-1333
Bridge Street Town Center, Huntsville- 256-327-8395
Celebrate Chocolate Chip Day today by calling to get $10 off a 16″ Cookie Cake or larger.