With 4th of July a few days away, I wanted to inspire you with a few summer recipes ideas you can try for your celebrations! Many of them can be made in advance so you don't need to be in the cooking scramble the day of, freeing you up to enjoy the morning with some movement before partying!
Watermelon & Feta Salad
This is one of my all time favorite recipes to make in the summer – it's super easy and incredibly tasty! This is the perfect salad to bring along with you to your 4th of July party. With a few simple ingredients, this is an easy salad to whip up ahead of time and win over the crowd. Not to mention, watermelon is a true summer superfood so you can feel good about indulging!
Ingredients: 
2 tbsp white wine vinegar
2-3 cups cubed watermelon 1.5 lbs
1/2 small red onion sliced
4-5 mint leaves finely chopped
The full recipe
Fall Off the Bone Baby Back Ribs
I don't know about you, but something about 4th of July makes me think of yummy BBQ baby back ribs. Jamie, from Family Savvy, has the tastiest recipe for making ribs in the oven. The whole process takes some time but the slow process is what makes them so delicious! This is bound to be a crowd pleaser!
Ingredients: 
Ribs:
3-4 racks baby back ribs (membrane on is fine)

BRINE:

1 cup kosher salt or 1/2 cup table salt

1/2 cup brown sugar
Dry Spice Rub
1/4 cup firmly packed brown sugar

1 teaspoon cayenne pepper

1 teaspoon ground cumin

2 teaspoons garlic powder

2 teaspoons onion powder

2 Tablespoons smoked paprika

1 teaspoon celery salt

1 Tablespoon kosher salt

2 teaspoons freshly ground black pepper
The full recipe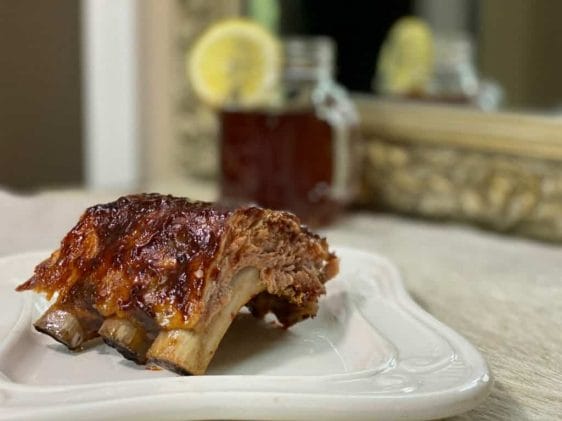 Quinoa and Black Bean Salad
Another quick and easy salad recipe that packs a plant based protein punch is this quinoa and black bean salad. This can be prepped in advance and stored in the fridge leaving you plenty of time on the morning of the 4th to enjoy some movement before the festivities begin!
Ingredients: 
1 cup dry quinoa , rinsed

1 cup water

2 tablespoons extra-virgin olive oil

1/4 cup freshly squeezed lime juice

1 tablespoon raw apple cider vinegar

1 tablespoon pure maple syrup (optional)

1 clove garlic , minced

1 teaspoon ground cumin

pinch cayenne pepper

1 teaspoon fine sea salt

1 red bell pepper , seeded and chopped

1/2 red onion , finely chopped

3 green onions , chopped (about 1/2 cup)

1/2 cup freshly chopped cilantro

1 1/2 cups cooked black beans (or 1 can rinsed and drained)
The full recipe
Healthy Blackberry Cobbler
I have yet to try this recipe but when I came across it, it seemed like a great addition for the dessert table. I love that it's gluten free, vegan and refined sugar free!! A dessert packed with berries is always a yes in my book!
Ingredients:
For the Blackberry Filling:
4 cups blackberries (about 20 ounces or 561 g)

Juice of ½ small lemon 

1–2 tablespoons coconut sugar, plus more to taste*

½ teaspoon vanilla extract
For the Cobbler Topping:
1 cup (91 g) oats, blended into flour

1 tablespoon coconut sugar

½ tablespoon baking powder

¼ teaspoon sea salt

⅛ teaspoon cinnamon (optional)

¼ cup (60 g) coconut butter OR 2 ½ tablespoons vegan butter or coconut oil

½ cup (118 ml) non-dairy milk
The full recipe
Creamy Dijon Potato Salad
4th of July tables are filled with a variety of salads and this creamy dijon potato salad needs to make an appearance this year! You can make it just before the party and serve warm or as I prefer, make it in advance and serve it cold.
Ingredients: 
2 lbs small red or golden boiling potatoes

2 hard-boiled eggs, diced

1 cup chopped radishes

1/2 cup diced sweet onion

1/4 cup diced bread & butter pickles

1/4 cup minced parsley

optional:  2 T diced banana peppers
For dressing:
3/4 cup mayonnaise

3 T Dijon Mustard

1-2 t kosher salt, divided to add half to 1 t to boiling water

3/4 t garlic powder

1/4 t ground pepper
The full recipe
Luscious Lemon Bars
Lemon bars make for some beautiful summer desserts with how light and refreshing they are! Make in advance and serve frozen or cold!
Ingredients:
Crust:
1¾ cup all-purpose flour, spooned into measuring cup and leveled-off

¼ cup cornstarch

1 teaspoon salt

1 cup Confectioners' sugar, plus more to decorate finished bars

2 sticks (1 cup) cold unsalted butter, cut into ½-inch pieces
Lemon Topping:
6 large eggs

3 cups granulated sugar

2 tablespoons lemon zest (be sure to zest the lemons before juicing)

⅔ cup freshly squeezed lemon juice, from 5 to 6 lemons

⅔ cup all-purpose flour
The full recipe
Watermelon Mint Margarita Mocktail
Want to skip the alcohol but still have a fun mocktail to celebrate with? This watermelon mint margarita mocktail is the way to go. It tastes divine and makes for a beautiful presentation! 
Ingredients:
Seedless watermelon

½ cup fresh lime juice

4 tsp of agave nectar 

Sparkling water

Fresh mint
The full recipe
Which of these summer recipe ideas will you try for the 4th of July?
Join me in my Balance programs!
Balance Eating Method
Balance Program