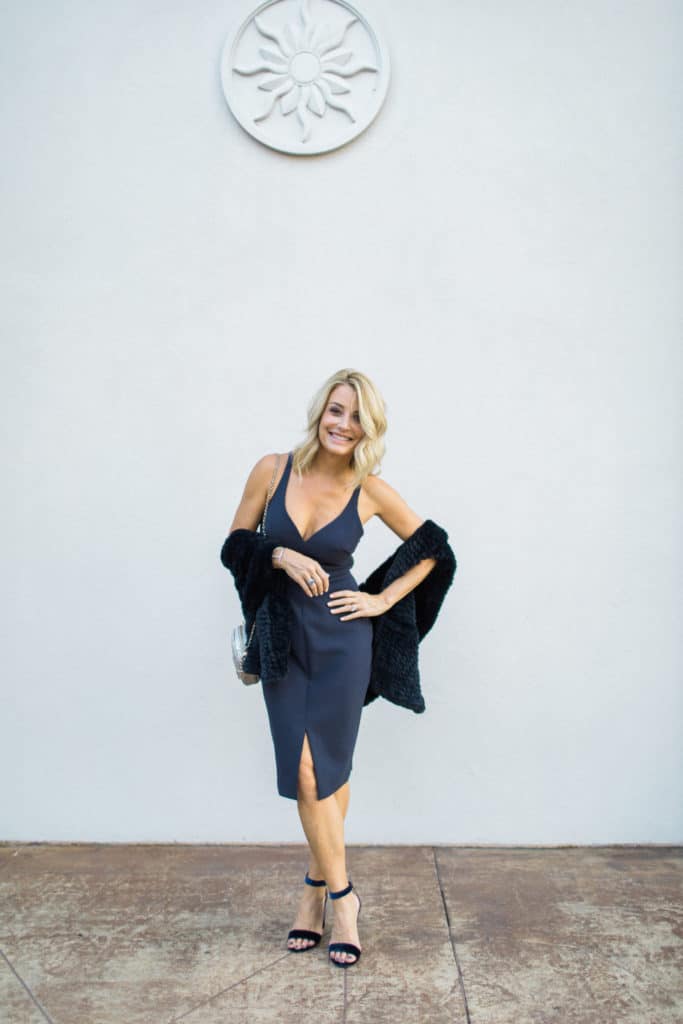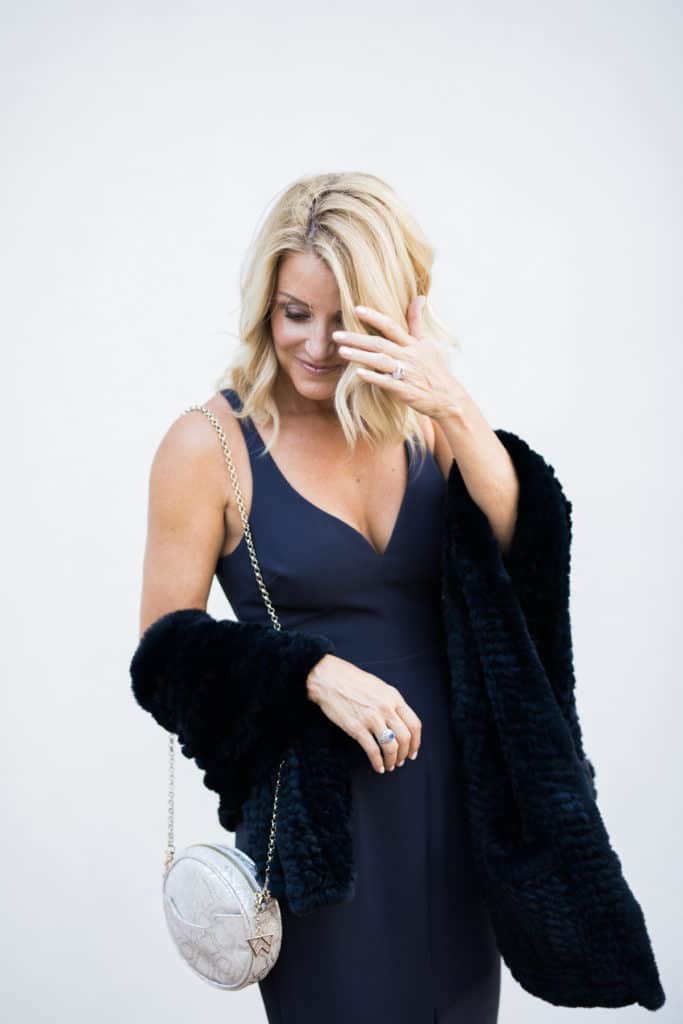 This weekend we had an opportunity to go to a beautiful fall wedding.  Usually, I would think October would be a great time to have an outdoor wedding at your house. The average temperature in Birmingham in October is high around 75 and low around 53.  Unfortunately, this weekend in Birmingham it was extremely cold and in the 40's.  It might have been cold, but this fall wedding was absolutely beautiful and the bride was stunning.
I had my outfit all planned out for weeks, but I had to make a last minute change due to the cold weather.  Instead of my navy fur wrap in the picture, I wore a navy cape with fur.  I picked out my dress weeks ago when it first arrived at  Gus Mayer.  Navy is my new favorite color right now and it was just perfect.  The brand is Likely and it is a great price point for the look.  I love the cutout in the back.  Although, no one got to see this at the wedding because I kept my cape on the whole time.
The purse I chose was a Kelly Wynn Halo bag in diamond dust.  I love the shape and the texture of the bag. It was the perfect size for my phone and lipgloss.
Velvet is one of my favorites and when I found these shoes, I had to have them.  When I bought them, I had no idea what I was wearing with them, but quickly realized they would be perfect with my navy dress.
My advice for planning an outfit for a fall wedding: have a backup plan.  The weather is changing all the time.  It was funny because I was thinking how perfect October would be for an outdoor wedding and it turned out not as good.  My son and daughter-in-law got married at our house outside on July 4.  We knew we were in for a hot night and as luck would have it, it felt like a cool fall evening. You just never know.
My whole outfit dress, shoes, wrap, purse, and jewelry all came from Gus Mayer.  If you are interested in any of these items call Brittany, the store manager, at Gus Mayer at 205-870-3300.
I hope you all stayed warm this weekend!