I just love a good blazer.  It can really pull an outfit together and give you a more polished look. A classic pulled together look has always been one of my goals and with another birthday coming up this weekend I am finally starting to feel like a grown up at 53.
Birthdays are my favorite. I am not one of those people who won't tell their age. Getting older is wonderful.  Even when my doctor told me I was in menopause, I was fine with it. Look, what is the alternative to getting older?
Here is the thing, I am just happy to be healthy, happy, and living my best life.  I am doing what I love writing this blog and coaching awesome women to live their best lives. We are never too old to reinvent ourselves (check out this post), in fact, I am sure I will reinvent myself again at some point.
Ok, back to the fashion. Last fall, I wrote one of my first posts, "My Fall Uniform – Starting With The Basics". As I read through it, it is exactly what I would write again for this fall.  You just can't go wrong with jeans, a white t-shirt, belt, and boots.
In Alabama, it can be hot through November or even December.  So a blazer is a great item to own.  This one that I am wearing is great for now and into the fall.  I love the stripes. This blazer would also look great over a navy dress or with white jeans (I still wear white after labor day). Here is another great one for less.
When it gets a little cooler, this jacket will be my number one go-to blazer. Veronica Beard is one of my favorite designers and her jackets or blazers are some of the best. Check out this post. If you are looking for a less expensive version here is a great one.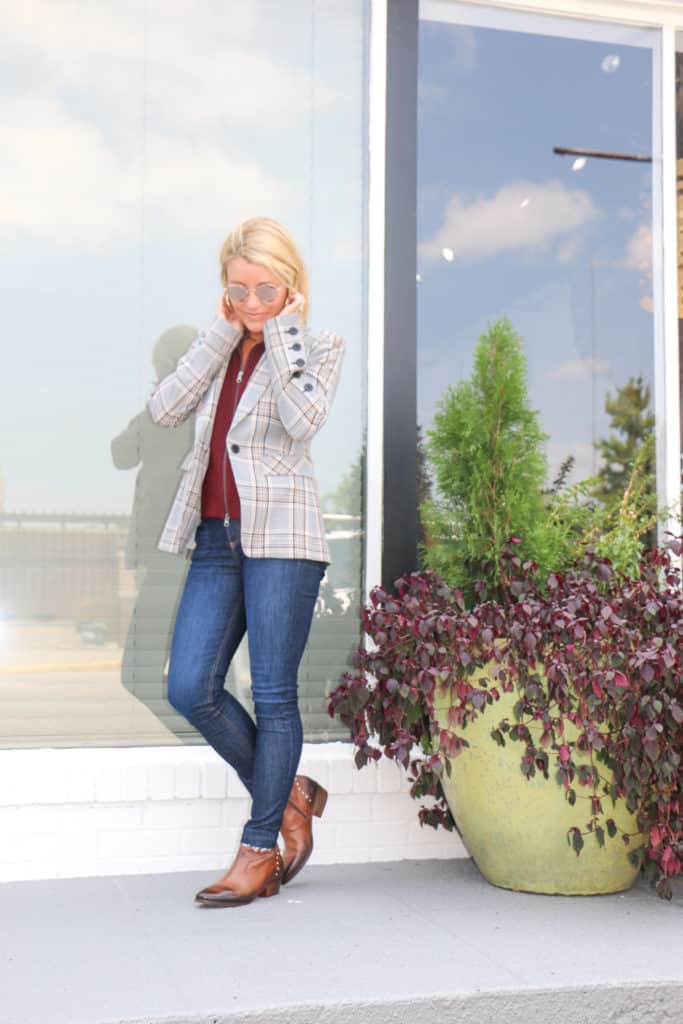 Here are a couple more of my favorites:

Hope you have an awesome weekend!  You will find me at the beach the next week celebrating my birthday with my family and friends!
My outfit: